Happy Friday! So excited it's the weekend- my sister, brother in law and nieces are in town from Madison! Jake and my five year-old niece are obsessed with each other so Jake is going to be super entertained all weekend! Tomorrow night we are going to see Jerry Seinfeld so should be fun! Yesterday I had a doctor appointment for my 30 week check-up and everything is looking great, so relieved.  I had an ultrasound and was able to see her little body + face. For some reason all doctor appointments are just scary to me.. My husband thinks I'm crazy!
Anyways- I wanted to share some of my favorite beauty items that I'm loving at the moment!
1) First thing I can't live without right now is this green lipstick by Lipsick Queen called Frog Prince– it's an emerald green lipstick that transforms into a rosebud hue when it reaches your lips. It's semi-sheer and has Vitamin E and shea butter so it keeps your lips hydrated which is the best part. It's super natural looking so you can wear it everyday.
2) Polishes: Since I'm pregnant I prefer to use more natural brands, so I'm using a lot of Deborah Lippmann, Smith + Cult, and London Butter..
~Everytime I wear "I knew you Were Trouble" by Deborah Lippmann I get so many compliments that I wanted to share. It's such a beautiful color and such a good dark- but not too too dark. I don't know about you guys but my husband hates too dark of colors but he loves this one maybe because it's more of a blue lacquer!
~There is something so fun about adding a little glitter to your nails and I found the perfect glitter coat from Smith and Cult called Teen Cage Riot ha! I like to paint one finger from each hand with this color if I'm wearing a nude or dark color on the other fingers. What I love about this one is that it's a thick coat so you can see it really well. If you just paint one finger from each hand it looks simple and chic!
3) Candle- I'm really not into scents – so much so that I don't wear perfumes. But a couple of years ago I was given a candle from Jo Malone called Blackberry & Bay and it's my favorite scent. It just has the most perfect smell for your home and I highly recommend purchasing it- yes it's pricey but it lasts a long long time!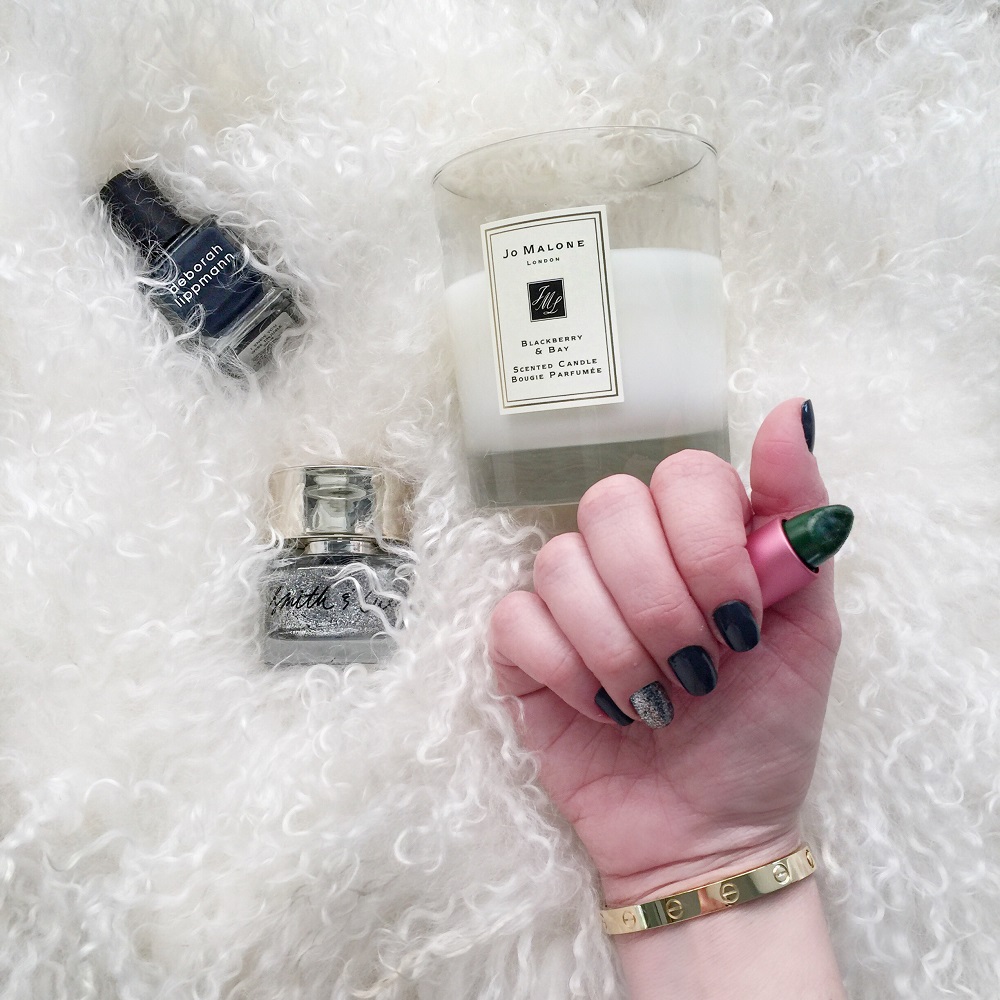 Hope you all have a great weekend!
xo
Jenny