Wear it Well is a lifestyle fashion consultancy that helps individuals of all ages look their best and maximize their wardrobe investment in a seamless manner.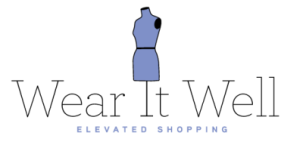 Initial Consultation
The Wear it Well experience begins with a comprehensive one on one consultation to discuss your current fashion tastes, daily lifestyle (work, leisure and family) and goals. We ask a deep series of questions to guide our work including testing your preferences from our proprietary lookbooks and style guides.
Wardrobe/Closet Audit, Detox & Renovation
Wear It Well will conduct a full "closet audit" to evaluate each and every piece of clothing, shoe, and accessory. We counsel on ill-fitting and outdated garments but much more importantly, we will create new outfits from your existing wardrobe that you never thought you could put together. Wear It Will then creates a personalized look book that showcases all of the new outfits we have put together. This book is customized for a variety of wardrobe situations from work to leisure, to more formal occasions such as weddings. We therefore take the headache and guesswork out of the personal wardrobe process, saving you precious time and money.
Personal Shopping Concierge
The truth is that even the most professionally maximized and organized closet will often require some new items to complete your wardrobe and to align to the latest and most appropriate styles for you. Wear It Well has deep experience in personal shopping and the insights gained during the Closet Detox will drive this process, which will always be undertaken to maximize your budget. We will work with you to decide what key wardrobe pieces are missing. We can then recommend preferred stores (both retail and online), join you for a shopping trip or for the greatest time savings, shop on your behalf and then bring our selections to your home or office to decide what looks best. You keep what works best and we return what does not.
---
À la carte Offerings
New Mom
Welcoming and bonding with your new bundle of joy is certainly among the most priceless life experiences and one you will cherish forever. A new arrival also means big changes to the wardrobe, sizes and styles. Wear It Well has deep experience in helping new moms find the most comfortable and stylish outfits that conform to a new lifestyle, figure and of course budget!
Weddings
Wear It Well assists you in finding the perfect wedding dress, accessories, bridesmaid dresses, rehearsal dinner, and brunch attire. We'll also work with your honey to make sure you coordinate perfectly.
Other Special Occasions
Have you been invited to a high stakes special event and want to look and feel like a cover page celebrity? Wear it Well can assist in finding you the perfect outfit.
Bachelorette Parties
If you're looking for something fun and different to do for your Miami Bachelorette party, Wear It Well can partner with you to host a shopping party in your hotel suite or private Home. Wear It Well will co- host a boutique for you and all of your girlfriends to shop to be party ready. 1/2 day, full day, destination shopping and wardrobe makeover packages are also available.
Mini Makeovers
Great for someone that wants to get a few pick me up items but that doesn't have a lot of time for a long shopping day while in Miami. We work with leading hotel concierges and boutiques to help you find those must have items quickly and within budget!
Clothing Donations
For your unwanted clothing Wear it Well has relationships with several worthwhile and credible charities. We can arrange to drop off your garments and provide a charitable deduction receipt without you needed to leave your home.