The Bebe Au Lait has been one of the best purchases post pregnancy- I am able to breastfeed anywhere! If you need to meet friends at a restaurant, but it's during your babies feeding time, it's the perfect thing to wear. On my flight from Miami to Dallas it was a lifesaver☺ It's stylish and lets the baby breathe.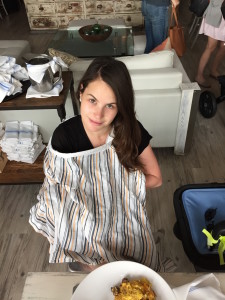 During my pregnancy while I heard about other pregnant women who had to buy different size bras through their pregnancies, I was able to stick with one size wearing Top Secret Society. When I was working at a showroom in New York City, I represented the Top Secret brand and I always lived in these bras. They are just the perfect solution to wearing any shirt (seamless, etc)! Not only is the Top Secret Society bra super comfortable, but it is also very stylish and minimizes cup size. After trying various different Top Secret styles, my go-to has become the Lacy's Secret.
At 39 weeks into my pregnancy my mom and I went to the mall in search for maternity bras – until then, I had no clue that I even needed one in order to breastfeed! I settled on bras made by destination maternity: one in black and one in nude. It was one of the few things I packed in advance to bring to the hospital. After I gave birth I started using these bras and they proved to be really uncomfortable and had bulges. Worst of all, they also made my boobs look like Mt. Everest and I was never able to get the hang of unsnapping one side. It was then that I that all I needed was Lacy's Secret. The Top Secret Society Lacey's Secret has – no underwire & seamless & at the same time looks great underneath clothes (I especially love them because they don't make my breasts look so large and in charge).
I LIVE in these bras and they have made breastfeeding so much easier.. Another plus is that the Lansinoh pads are invisible under these bras ☺
These are some of the breast essentials after giving birth… more fashion and practical tips to follow.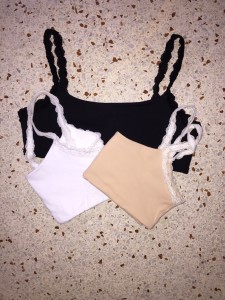 Happy feeding!
www.topsecretsociety.com
www.bebeaulait.com
xoxo
jenny