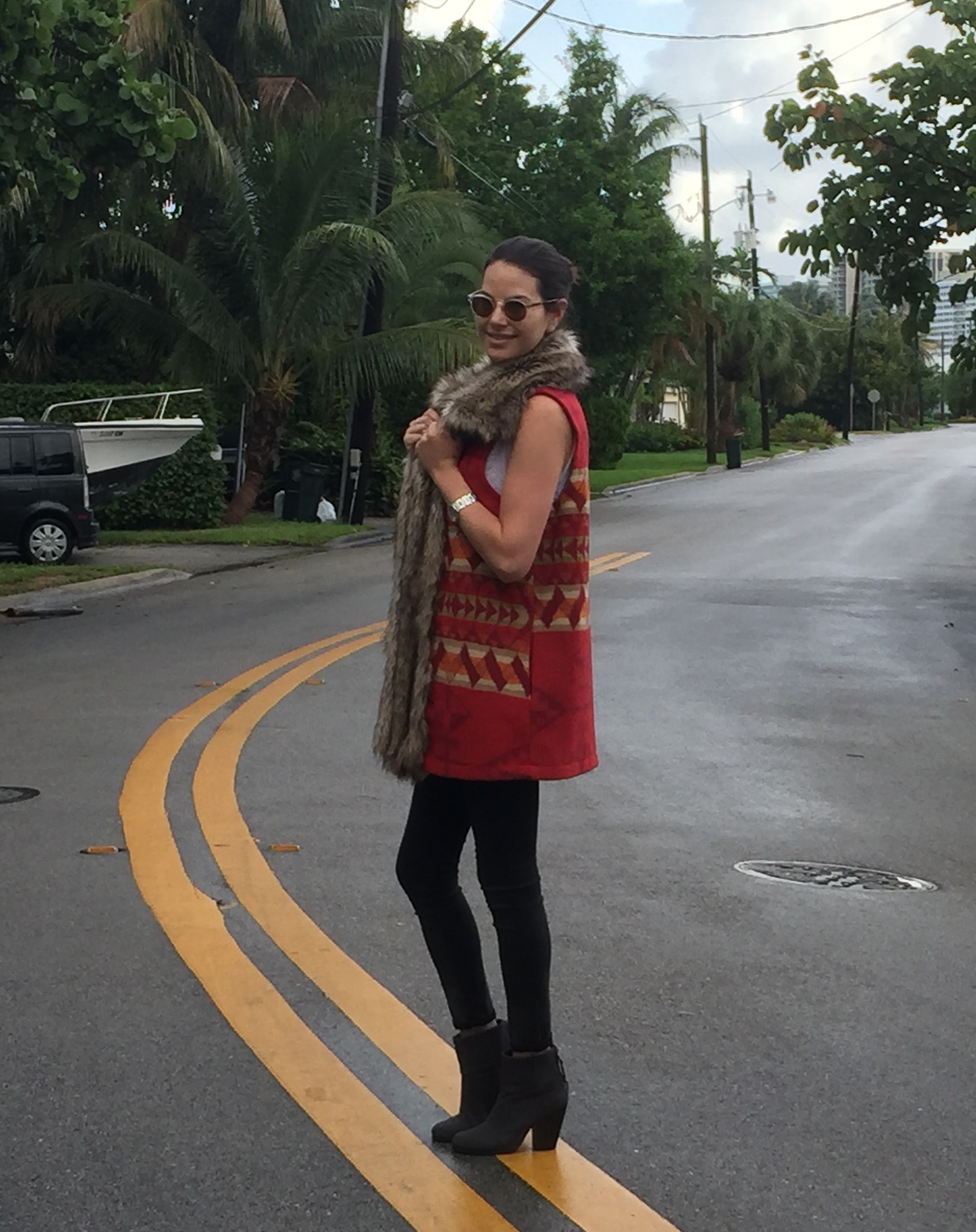 Fall is a transition period in which you can still get away with wearing some of your summer wardrobe pieces – but it's how you style those pieces that is key. This amazing colorful vest that I am wearing is from this little store in the Berkshires that I got on MAJOR sale. The store didn't have my size but I loved it so much that I bought it two sizes too big. Thankfully vests are supposed to be big!
Below I list my five favorite fall must haves that will make you on trend for the fall!
1) Vest with fur trim- When wearing the vest be sure that the vest is the only piece that is standing out. I styled my vest with black jeans, a white t-shirt, and booties. Of course if it's cold you can wear a long sleeve top underneath.. Below are some of my favorites at the moment that range in different price points.
2) Faux fringe suede skirt- I went to Zara over the weekend and found a suede fringe skirt for under $40.00! I think that if you're buying something that you won't wear often and believe it's just a fad, then try not to spend so much money on the piece. Styling tricks for the skirt include plain tops and simple shoes so that the fringe skirt is really the focal point. If you don't feel comfortable in mini skirts you can get a fringe skirt that's long. Below I linked some options both high end and low end and both lengths.
3) Flare Jean- This 70s style inspired denim is super flattering and can be worn by women of all ages. This look is almost impossible to mess up styling-wise. The hem is really important though- if your jean is too short it will look funny and unflattering, and if it's too long you will trip! Make sure to get it hemmed correctly and bring the shoe you are planning on wearing to the tailor. The length should be almost skimming the floor.
If you want to stick to the 70s theme then you can wear boho tops and you can pair it with your fur trim vest. If you are going to wear this more at night then opt for the darker shade. Below please find my favorite. Since this isn't so much a fad I think it's ok to spend more money on this.
4) Denim dress- This trend has been around for a while now, but I have been seeing it everywhere and you can pair it with booties and tights when it gets really cold out! Here are some of my favorite denim dresses below:
5) Bootie- high heel and flat are both great to have and can be styled with pretty much everything in your wardrobe. The bootie is a must have for fall when transitioning your summer clothes into fall. If you pair a white dress with booties- you automatically look fresh for fall! Below are some of my favorite booties.
xo
Jenny