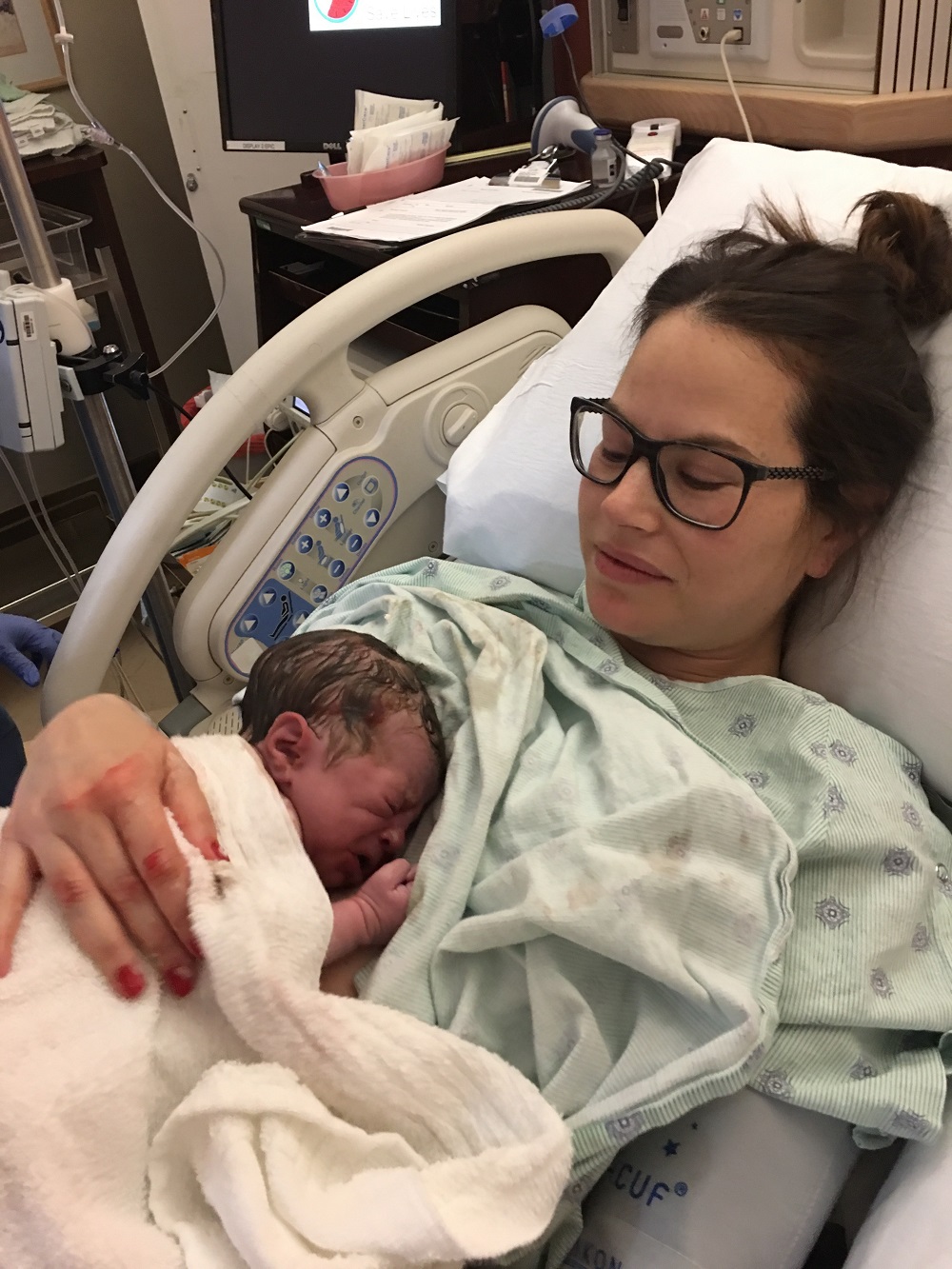 Hi! I'm really excited to share this story with you all..
On May 1st I was laying down in my room with my parents at around 2 pm while Jake was taking a nap. My dad (an OBGYN) was using a fetoscope to listen to the heartbeat and we were wondering what to do. I had a scheduled 40-week appointment on my actual due date May 2nd. My dad and I were talking about when I could get induced and he was wanting me to wait the until the following week if I wasn't dilated. At this point I was HUGE and couldn't imagine being pregnant an entire week longer. My parents said they wanted to go to Bal Harbour to grab coffee & walk around and I decided to join them thinking what else am I going to do other than lay in bed. I thought moving around could help this girl get going.
We arrived to Bal Harbour and immediately went into the coffee shop upstairs which I always go to. One of the baristas took one look at me and asked me how I could possibly be walking because I was so big! I thought to myself if I was living in Texas no one would have said that to me. But anyways we continued walking and I went to the bathroom and felt a tiny bit of liquid come out but didn't think anything of it – as a matter of fact, I was convinced it was pee. I called Chase and told him what had happened but was convinced it was pee because by that point I was always peeing and when I saw a toilet pee would just come out. My mom and I walked to the other side of Bal Harbour and I was dying of heat as I was covered from head to toe shielding myself from Zika. My dad had decided to go on his own adventure and my mom and I walked over to Saks because I desperately needed air conditioning.
Right when we got into the store around 4:30 I started feeling a liquid dripping down my leg. I started laughing and couldn't explain to my mom what was going on. She finally caught on when she saw my soaking wet pants. Finally, I left the store and ran outside. My converse had amniotic fluid inside of them and my pants were drenched! We quickly called my dad to come over and we walked to the car, ran to my house, grabbed my hospital bag and headed over to the hospital around 5:30. Chase left the office and raced over there… when I got there at 5:30 he was there waiting for me with the biggest smile I've ever seen saying it's showtime!
When I arrived at the hospital there continued to drip amniotic fluid- so much so that there was a huge puddle on the floor. They quickly put me in a room and checked for dilation – I was 2 cm. We then decided that I would try to see if contractions would come naturally and they did but by 9:30 we decided I would get a small dosage of pitocin to speed things up…this was needed because you are prone to infection once the amniotic sack breaks as the baby is now exposed to the outside elements. Right when they put me in the room they offered me an epidural and I said no no I got this…thinking I could perhaps get through with this delivery with out one. My mom looked at me like ok Jenny… HMM..
Right around 10 pm when the pitocin started hitting I was begging for an epidural. The Doctor came in and gave it to me and made a mistake. He accidentally put the needle in too deep causing the medicine to go in my actual spine. The problem with this is that it could cause a spinal headache. Luckily- my dad said that I needed to lay flat for the next two days to try to avoid headaches + drink tons of caffeine- music to my ears.
I told the nurse around 12:15 am that I felt the baby coming out and she said no way! My dad asked that she call the doctor and right when the doctor came in around 12:40 it was showtime. I pushed around 3 times and baby Chloe arrived to the world with her huge eyes taking it all in. We are so lucky and I continue to pinch myself that this is real- we have a baby girl! From not knowing if I could have any kids to now having two we are blessed. My family is complete and I couldn't thank you all enough for your love and support. I can't believe there was a point in our lives Chase and I were talking about life with just the two of us, he has been the most supportive husband and I couldn't have done any of this with out him.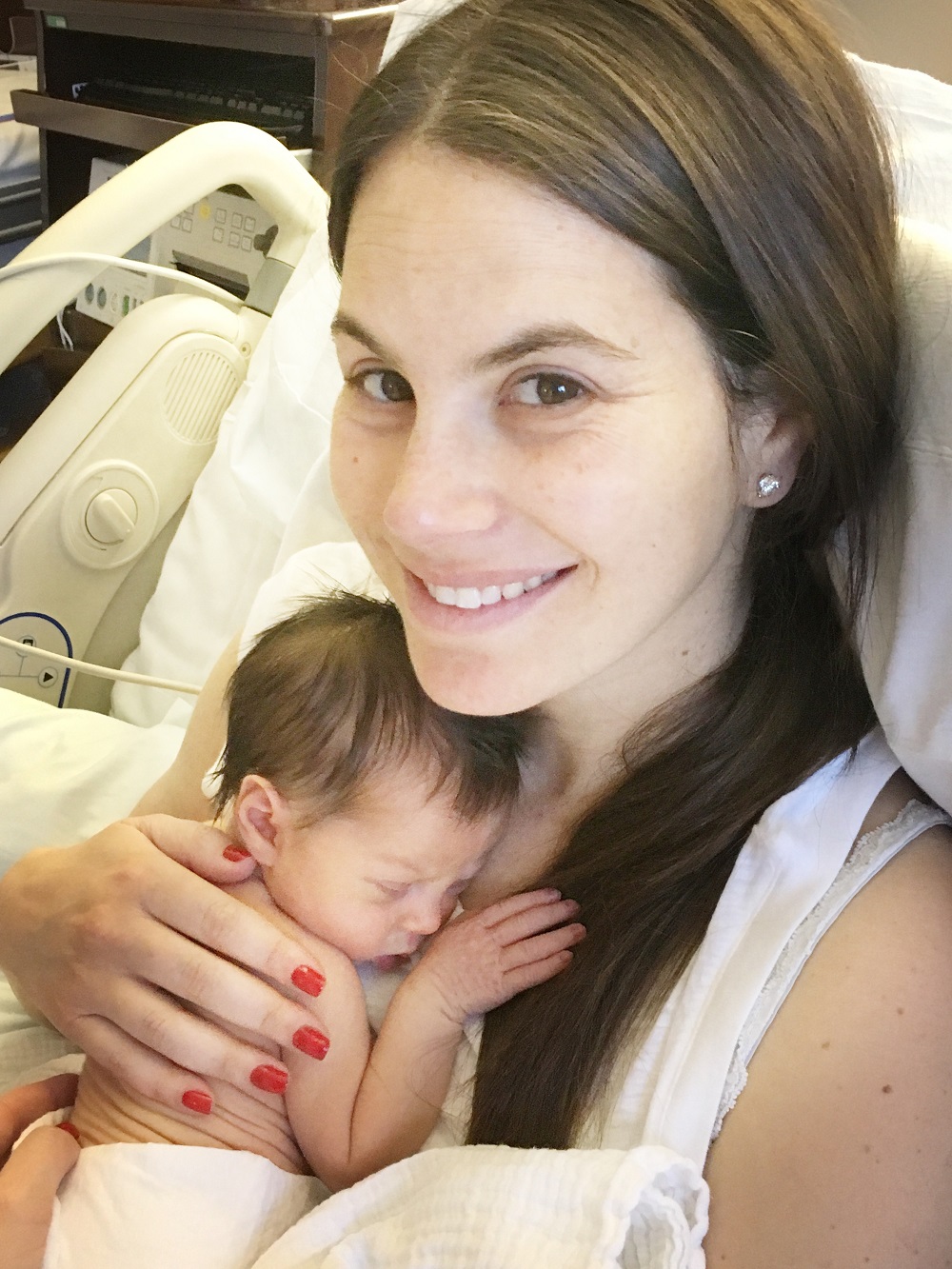 xo
Jenny