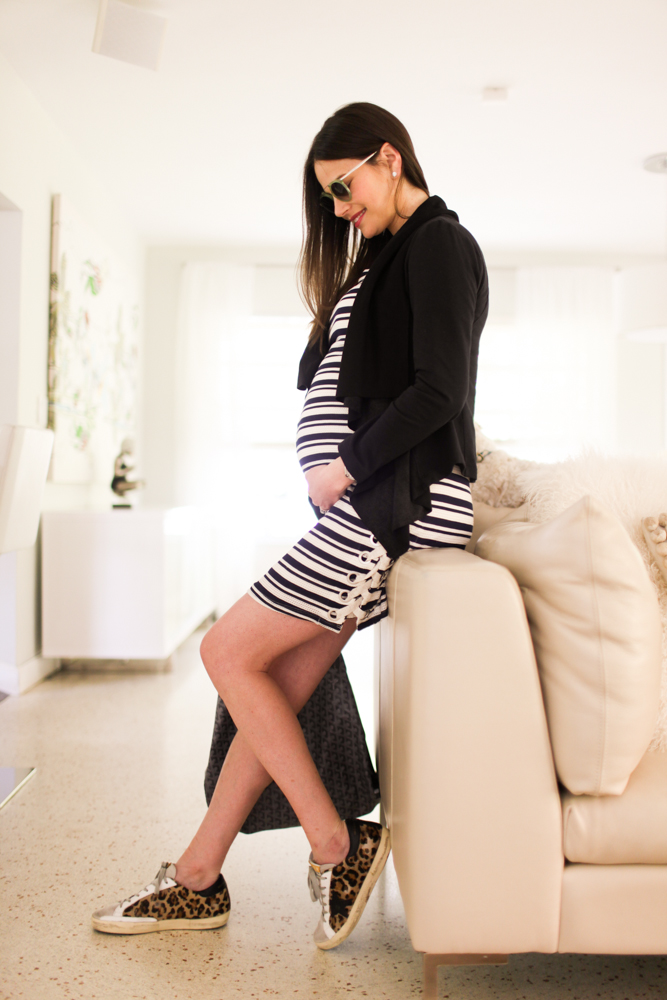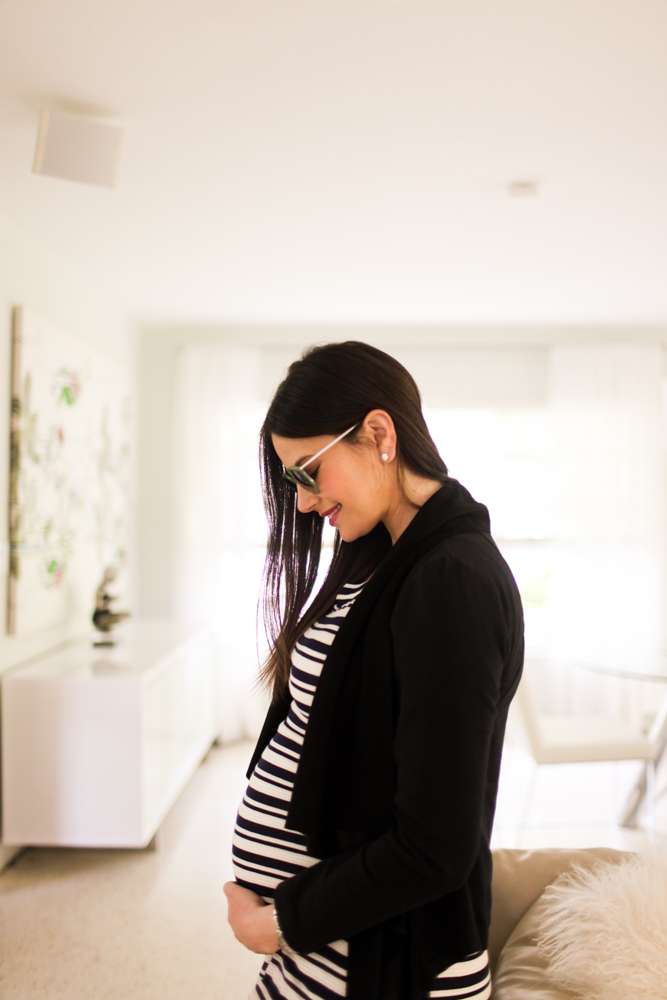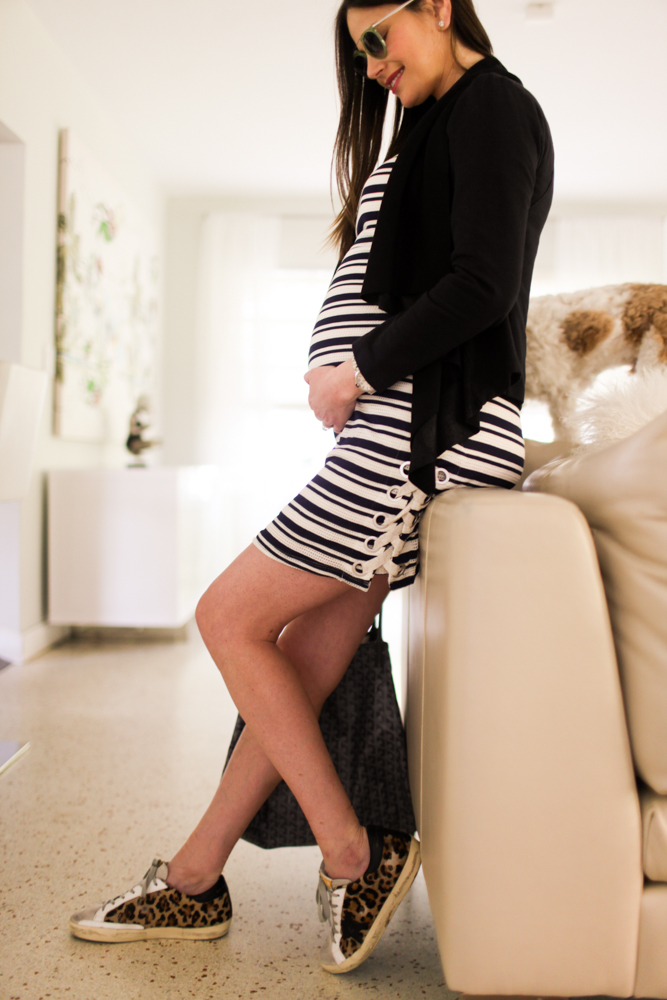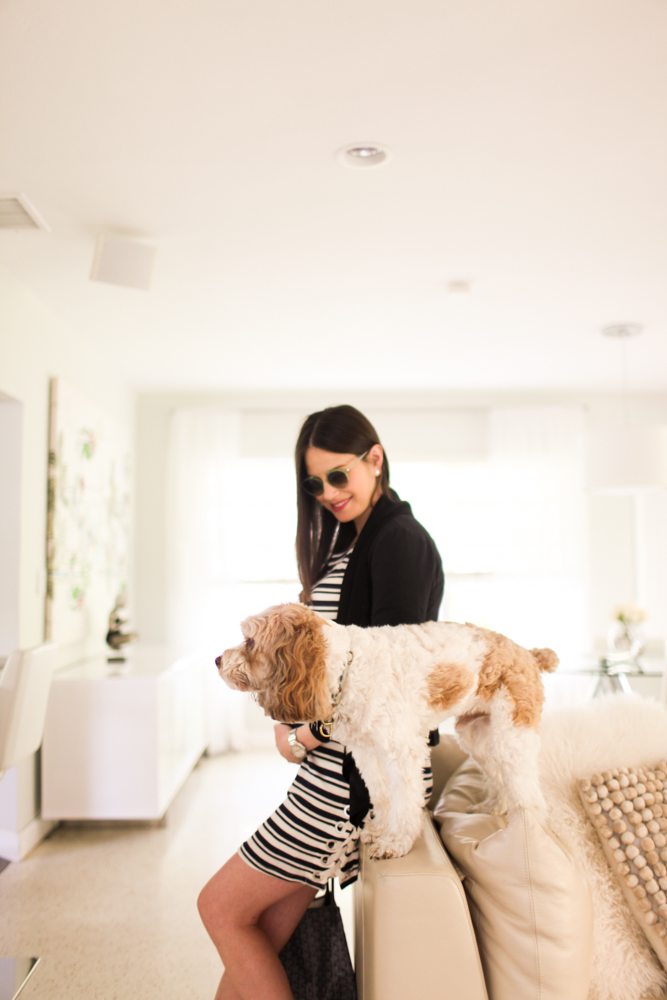 Hi Guys!
I seriously can't believe it's already mid April.. Where has the time gone? I feel like this pregnancy is going by much quicker because I don't have time to think about it. I'm super ready- but of course would like to wait until 38.5 weeks or 39 weeks to have this baby girl. I had a 37 week check-up this week and everything is looking good, ie the heartbeat was fine, my blood pressure was normal and I continue to gain weight.. It's so hard seeing the scale go up- even though I know it's because I'm pregnant and you're supposed to gain weight it's still really hard to imagine all of the weight that I have gained. When I step on the scale I always take off my shoes! HA as if that helps.. I have been staying active the entire time- last week was my last time going to pilates. I started to feel a little light headed and figured it was time to stop. Now i'm just walking when I can taking trips to the mall which is indoors and air conditoned.
Anyways onto the outfit! This stripe dress is so cute and non-maternity so you can totally wear it after (I'm in a size medium). I love the stripes and the laced up side hem.. I paired it with my leopard Golden Goose sneakers- i'm obsessed with stripes and leopard I think it's such a cool combo. My drape sweater is the perfect transition piece because it's so light and I love that it has the faux suede drape collar, really make the piece unique.
Dress: Stripe
Sweater: Drape faux suede
Sneakers (similar): Leopard or similar for less
Sunglasses (similar): Green or for less
Bag: Grey tote 
Weekend Sales: The denim jacket I have been living in is currently 30% off with code "bff30" here!  Obsessed with this off the shoulder ruffle dress which is currently 30% off with code "FRIENDS" here.  Found these platform espadrille sneakers for more then 50% off with code "BOGO" that are on my wishlist here.  I have been eyeing these pom pom storage baskets for a while for the babies rooms and they are 20% off with code "FRIENDS" here, which means it's time to buy them!  This off the shoulder tie sleeve top is currently 50% off with code "SPRING50" and is perfect for spring/summer.
Hope you all have a fabulous weekend!
xo
Jenny