Jenny Packham- is one of our favorite designers showing at fashion week.  Not sure if it's her first name that we LOVE so much or her elegant, beautiful, tasteful collection.  The beaded long dresses, beautiful silk fabrics, and texture are a must see.  The colors Jenny Packham uses are just perfect for Fall: Deep reds, navy & mustard yellows are among some of the colors that stand out.
Below are our two favorites dresses.  They are perfect for a black tie wedding or a Gala.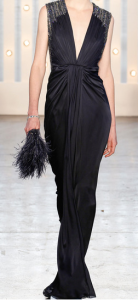 Least favorite designers of NYFW is The Row.  We just don't understand the need to show such baggy outfits.  The long skirts, over-sized coats and menswear inspired looks are just lacking femininity.  The dark colors don't help the collection either- all in all- it's a dark and depressing collection that we wouldn't wear anywhere.
See picture below for an example-